Our speaker will be Dr. Lester Brooks. He will speak on the November 1864 Battle of Franklin, Tennessee.

A native of Cleveland, Ohio, Dr. Brooks earned his undergraduate degree from Indiana University, a master's degree from Howard University, and his Ph.D. in History from the University of Michigan.

In 1982 he began teaching U.S. History, Civil War Era, and African American History at Anne Arundel Community College. Dr. Brooks is Program Coordinator of the Chesapeake Civil War Roundtable and also teaches continuing education classes on the Civil War that combine lectures with battlefield visits.

Dr. Brooks is the author of several brief articles and a past recipient of the AACC Student Association Teacher of the Year award.
Notes from the President 1/2018
BCWRT Community:
Happy New Year! I hope and trust that entered 2018 in good health and in fine spirits. We will embark on our 2018 journey on January 23 when Chesapeake Civil War Roundtable Program Coordinator and Anne Arundel Community College Professor Dr. Lester Brooks presents a program on the Battle of Franklin. This November 1864 clash was one of the most significant actions during the later phase of the Civil War. The meeting begins at 7:30 p.m.
Usually disguised as males, many women, on both sides, took up arms during the war. On February 27 historian and reenactor Anita Henderson will introduce you to one special female horse soldier. Author, historian Bob O'Connor will have a 'first person" presentation on Ward Hill Lamon, Lincoln's friend and self-appointed bodyguard, on March 27.
Last September, we thought our April 24 Annual Banquet was basically arranged. Since then, the event has turned into an adventure. First our location, Parkville Heritage Gardens ceased operation (we will announce a new location in the near future). Then, to make matters worse, our scheduled speaker, noted author and historian Edward Bonekemper , died last month (Requiescat in pace). Fortunately, we have been able to schedule National Park Service Historian Emeritus, Ed Bearss, to be our speaker.
On May 22, author Scott L. Mingus Sr. will speak on his book, The Second Battle of Winchester: The Confederate Victory That Opened the Door to Gettysburg June 13-15, 1863.
IMPORTANT REMINDER: Remember, it's time to renew your membership for 2018. Yearly dues are $25.00 for an individual membership, $35.00 for a family membership. If you have already paid, Ray Atkins will have your membership card at out next meeting. We are always looking for new members. Invite a friend to our meetings. The BCWRT has many good things happening. Please spread the word.
Robert L. Ford,
President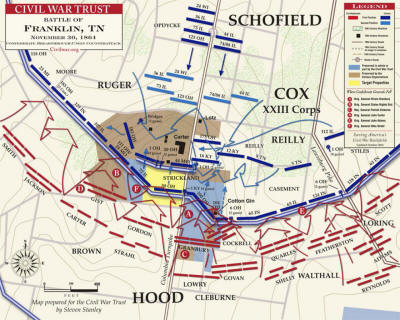 Click picture to enlarge
See new link in Gallery - Intelligence in the Civil War
Archaeology Lecture/Sunday, January 28, 2018 at 1 PM.
Abraham Lincoln and John Wilkes Booth, Historian Dave Taylor will be addressing the Archeological Society of Maryland, Central Chapter group with some of the lesser known stories of the Lincoln assassination saga that follow an archaeological theme (i.e. stories that involve digging and discovery) in his talk entitled "Unearthed Stories of the Lincoln Assassination". The talk will be held at 1:00 p.m. on Sunday, January 28, 2018 at the Natural History Society of Maryland located at 6908 Belair Road, Baltimore, MD 21206. The public is welcome. The event is free. The Natural History Society of Maryland at 6908 Belair Road, lecture room has a capacity of 175 persons. For additional information; contact Stephen Israel at
Minutes from January Meeting
Our January meeting was our 407th. Our attendance was 17 (not including 3 visitors). We had $2,053 in the bank, and no outstanding bills. We settled on a restaurant for the banquet—Columbus Gardens, on Belair Rd. Costs will be $35 per person, instead of $30. The banquet is April 24 and features the incomparable Ed Bearss. Ed will be speaking on Reconstruction.
In February, Anita Henderson will be speaking on cavalrywoman Maria Lewis.
In March, Bob O'Connor will give a "first-person" presentation on Ward Hill Lamon, Lincoln's friend and self-appointed bodyguard.
In May, Scott L. Mingus Sr. will speak on his book: The Second Battle of Winchester: The Confederate Victory That Opened the Door to Gettysburg June 13-15, 1863.
In June, Darlene Colon will impersonate Lydia Hamilton Smith.

Our speaker was Dr. Lester Brooks, Program Coordinator for the Chesapeake Civil War Roundtable and a teacher at Anne Arundel Community College. Dr. Brooks discussed the Battle of Franklin.

Jefferson Davis had replaced Joseph E. Johnston with John Bell Hood as commander of the Army of Tennessee. Hood had written letters undermining Johnston. Robert E. Lee, however, was less than enthusiastic about the change of generals. Sherman said that he could accurately predict Johnston's movements because Johnston, unlike Hood, was a sensible man. While Sherman was conducting his March to the Sea, instead of pursuing him, Hood decided to march into Tennessee, with the aim of eventually joining Lee.

George H. Thomas was gathering troops in Nashville. Sherman sent him XXIII Corps, under John Schofield (a classmate of Hood's at West Point), to join him, as well as IV Corps, under David Stanley.

At Spring Hill, the Confederates allowed Schofield to march through largely unmolested. The reason for this is still not totally clear. At 4:30 A.M. on November 30, 1864, Schofield arrived at Franklin with Jacob Cox. He ordered Cox to hold Hood back so the supply wagons could cross the river. The army deployed on both sides of the Columbia Pike.

Hood had around 25,000 men. Dr. Brooks addressed the question: Why did he fight at Franklin when he didn't have to? Nathan Bedford Forrest said to flank the Federals, rather than do a frontal assault. But Hood believed he couldn't let the Federals get into Nashville, that they would see any flanking movements, and that if directly attacked, they would break.

The assault began at 4 P.M. The attackers suffered terrible casualties. They faced not just artillery and small arms fire but, in various places, repeating rifles, bushes, and breastworks six feet high. Francis Cockrell's brigade found a gap and went through it, only to run into two Napoleons. Two sounds were heard—cannon fire and then the crushing of bones. On the Union side, George Wagner deployed way in front of the rest of the line. He eventually had to pull back, and in the process many of his men were victims of "friendly fire" directed at the advancing Confederates.

The Confederates eventually broke a 200 yard hole in the line. Emerson Opdycke's brigade slammed in to close the gap. There were about 5,000 men from both sides fighting hand to hand around the backyard of the Carter House (the house belonged to Fountain Carter). The hole was ultimately plugged. Fountain's son, Tod, was shot in the head and died in his own living room.

Five Confederate generals were killed outright in the battle, including Hiram Granbury and Patrick Cleburne, and one—John C. Carter—was mortally wounded. Dr. Brooks said that the death of Granbury "shakes me up." When Granbury was killed, according to reports, he literally sank to his knees.
At midnight, Hood said that he would attack in the morning, but this never took place. Incredibly, he believed he won the battle! His men were not fooled, however. The official casualty figures are quite lopsided—2,326 Union casualties to 6,252 Confederate (as always in Civil War battles, these figures can not be presumed to be 100% accurate). Outside the Carter House, there was a pile of limbs six feet tall. Hood went on to lead the Army of Tennessee at the battle of Nashville, another disastrous Confederate defeat. He was replaced in January 1865.