---
Previous Meetings:
2014
2013
2012
2011
2010
2009
2008
2007
2006
2005
2004
2003 and before
---
Meeting: December 14, 2004
Our speaker will be Will Priest

.

Military and maritime historian Will Priest has been part of the USS Constellation's Living History Program since 1982.

From 1989 to 1991, he was the Education Coordinator aboard the Constellation.

During this time, he developed a living history program that he took into the school system of Maryland.

Since 1989, he has regularly participated in living history programs for Defenders' Day and the Maryland Historical Society.

At this time, he has implemented over 20 living history programs covering the daily lives of soldiers, sailors and marines from the 1750's through the Korean War.

Will has been a teacher for ten years and is presently a special education teacher for Care Resources. Will is a currently serving on the BCWRT Board of Directors. He and his wife have been long-time members and currently provide refreshments at the monthly meetings.

Will Priest will discuss the recreational aspects of a Civil War Sailor's life. The title of his talk is "Blue Jackets of 1861: Liberty Ashore"


USS Constellation, Baltimore, MD
Meeting: November 9, 2004
Our speaker will be Mark Nesbit. Mark Nesbitt was born in 1949 in Lorain, Ohio. He graduated from Lorain High School in 1967 and from Baldwin College in 1971 with a BA in English Literature. He moved to Gettysburg, PA, to work for the U.S. Park Service in 1972. Mark began a series of booklets based on stories from locals and visitors detailing the many strange sightings that have emerged from the quaint houses and gentle fields in and around the battlefield. The "Ghosts of Gettysburg" led to the Candlelight walking tours which offer night time guided tours of the sites of many unexplained happenings documented in the 5 booklets. Many of his stories have been seen, and/or heard, on The History Channel, A&E, The Travel Channel, Unsolved Mysteries, Coast to Coast AM, and numerous other local television programs and specials. In July of 2004, his Ghosts of Gettysburg Series received the National Paranormal Award for "Best True Hauntings Collection" and "Best 'Local Haunt' Guidebook".
To date, Mark has written 12 books and produced 2 feature-length videos and an audio tape tour of the battlefield.

Meeting: October 12, 2004
This month is the 22nd anniversary of the Baltimore Civil War Roundtable. Our speaker will be Dennis Frye. Dennis is the former Chief Historian of the Harpers Ferry Historical Park and is a founder and past president of the Association for the Preservation of Civil War Sites. He is also a founder and first president of the Save Historical Antietam Foundation. He has written and lectured extensively on The Maryland Campaign for the past two decades, served as associate producer of the movie "Gods and Generals," coordinated the 1997 and 2002 Antietam reenactments, wrote a general management plan for the Stonewall Jackson Headquarters house in Winchester, Va., and served as consulting historian for the Maryland Civil War Trails project on the Antietam and Gettysburg campaigns. The topic of Dennis' talk will be Opportunity Lost: Gettysburg Alternative.

Dennis will also have copies of his latest book Antietam Revealed: The Battle of Antietam and the Maryland Campaign As You Have Never Seen It Before for sale and signing.
Meeting: September 14, 2004
This month the Baltimore Civil War Roundtable will be trying something new. This month is sort of a "Show and Tell" for our members and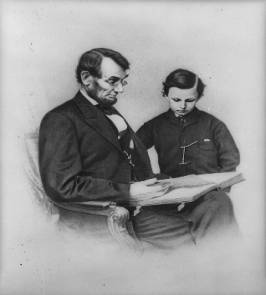 friends. We have arranged to have a number of tables available for the purpose of displaying the various interests, collections, artifacts and creations of our membership.
The idea for this type of a meeting came from the survey of the membership that we took some months ago as well as the knowledge that other Roundtables have done this sort of thing with success.
So, Members, Friends; this is your meeting. There are still a number of tables available for you to show what you find to be so fascinating about this period in our history. Please give me a call at (410) 788-3525 if you would like to demonstrate or exhibit pretty much anything at all.
If this works out we will try to make it an annual event, but it's up to you.
Meeting: August 10, 2004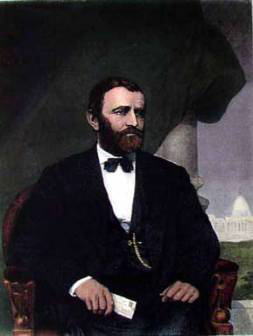 Our speaker will be Edward Bonekemper.

Mr. Bonekemper is currently a Visiting Lecturer in American Military History at Muhlenburg College, Allentown, PA. and Adjunct Professor of Constitutional History at the internet American Military University. He received his BA cum laude in American History at Muhlenburg College and his MA in History at Old Dominion University in Norfolk, VA. He is a retired Coast Guard Reserve Commander. His honors include the Distinguished Career Service Award, The Secretary of Transportation's Silver Medal and Coast Guard Commendation and Achievement medals. His first book was nominated for Virginia Book of the Year.

Ed will discuss his latest book, A Victor, Not a Butcher: Ulysses S. Grant's Overlooked Military Genius. He will present a fresh analysis of the military career of Grant, concluding that Grant's generally low-casualty western successes compelled Lincoln to bring him east. Ed reveals that Grant's casualty rate was actually lower than that of Lee, Bragg, Hood and most generals of the war.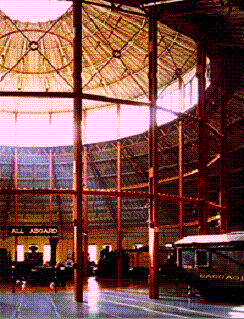 Meeting: July 13, 2004
Our speaker will be Courtney Wilson. Courtney is a long time member of the BCWRT. Long known as a historian and appraiser, he was instrumental in the design of the exhibits for the Baltimore Civil War Museum in the President Street Station. Currently he is the Executive Director of the B&O Railroad Museum in Baltimore, MD. Many members will remember his eagerly anticipated discussions on the subject of collecting Civil War artifacts and memorabilia. These popular discussions were accompanied by an examination and appraisal of items brought in by the members.

Courtney will speak on the Baltimore and Ohio Railroad during the Civil War. Additionally, he will discuss "The B&O Railroad Museum; Past, Present and Future."




---
Meeting: June 8, 2004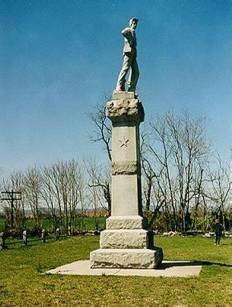 Our speakers will be Gail Stephens & Gloria Swift. The topic of their presentation is "Lee's Third Invasion of the North; The Battle of Monocacy. During Jubal Early's June 1864 invasion of the north, Lew Wallace's outnumbered forces held up the Confederate advance for one crucial day at Monocacy. Though defeated, Wallace gained enough time to allow Grant to rush reinforcements to Washington, thus saving the city and restoring Wallace's reputation.

Gail Stephens was born in Wyoming and attended Colorado College and GW Univ. in Wash. DC graduating with a Batchelor's degree in international politics. Upon retirement from the National Security Agency, she began pursuing her interest in the Civil War, as a volunteer at Monocacy National Battlefield and working on a research project with Gloria Swift. Gail and her husband, Michael, live in Severna Park.

Gloria Swift was born in Wash. DC and graduated from Northern Arizona University with a degree in American History. Specializing in military history, she has worked as an NPS ranger at such sites as Gettysburg Nat. Military Park and Harper's Ferry NHP. Currently she is assigned to the Monocacy Nat. Battlefield. She lives in Frederick, MD., with husband Mark.


---
Meeting: May 11, 2004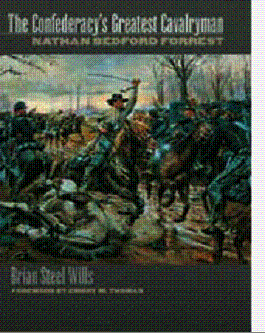 Our speaker will be Bryan Steele Wills.

Brian Steel Wills is Professor and Kenneth Asbury Chair of History in the Department of History and Philosophy at the University of Virginia's College at Wise. He is the author of numerous works relating to the American Civil War, including a biography of Confederate General Nathan Bedford Forrest, currently in reprint.
A Battle From the Start: The Life of Nathan Bedford Forrest
Reprinted: The Confederacy's Greatest Cavalryman: Nathan Bedford Forrest.

This work was chosen as both a History Book Club selection and a Book of the Month Club selection. He recently authored, The War Hits Home: The Civil War in Southeastern Virginia, released in October, 2001 by the University Press of Virginia.

In 2000, Dr. Wills received the Outstanding Faculty Award from the state of Virginia, one of eleven recipients from all faculty members at public and private institutions across the state. He has won both the Teaching award and the Research and Publication award from UVa-Wise.

Dr. Wills currently resides in Wise, Virginia, with his wife and one of four children.


---
Meeting: April 13, 2004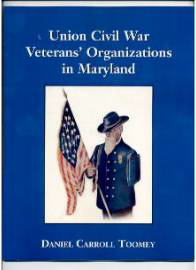 Daniel Carroll Toomey is a native Marylander whose family ties go back to the late 1700s when Daniel Henry Toomey left Ireland and came to this country to teach school on the estate of Charles Carroll of Carollton in Howard County. Since the earliest days of his childhood, he has been interested in history in general and the Civil War in particular.

Mr. Toomey is a graduate of the University of Maryland, School of Business. He holds an I.C.C. Practitioner's license and is a past-president of Delta Nu Alpha Transportation Fraternity in Baltimore. His expertise is in the field of international logistics.

Among his published books are The Civil War in Maryland and Marylanders at Gettysburg.

Mr. Toomey's talk will be on the subject of his latest book Union Civil War Veteran's Organizations in Maryland. The discussion will center on the returning Union Veterans and how and why the Veteran's groups were formed. He will also provide information about the various reunions held in Maryland for the Veterans.


---
>>
Annual Banquet 3/16/2004 << >>Map<<

Our March meeting is our Annual Banquet. Guest speaker is Ed Bearss. Mr. Bearss is an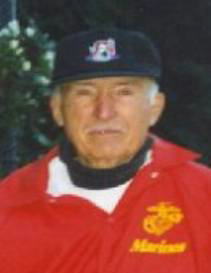 independent scholar and historian whose public career began at the National Park Service in 1955 in Vicksburg, Mississippi. While there, he conducted research leading to the recovery of the long-lost Union gunboat Cairo. He also located two forgotten forts at Grand Gulf, Mississippi, and was instrumental in having Grand Gulf named a State Military monument.
In 1966, he transferred to Washington, D.C., and in 1981 he became the National Park Service chief historian for military sites. Mr. Bearss, winner of the Harry S. Truman Award and the Nevins Freeman Award for Civil War scholarship, continues to serve as a Civil War consultant and conducts detailed battlefield site tours and seminars for the Smithsonian Study Tours program.

In 1990, he was a featured commentator for Ken Burns' PBS series, The Civil War, the most popular program broadcast by that network to date. Recently, he has appeared on the Arts and Entertainment Channel's Civil War Journal. Mr. Bearss is a combat veteran of the Pacific Theater during the Second World War.

Ed will talk about the battles for South Mountain just prior to the Battle of Antietam in September 1862. His discussion will be a lead-in for the BCWRT Spring Bus Trip to South Mountain on April 10. Ed Bearss will also be the guide for that trip.

>> South Mountain Bus Tour 4/10/2004 <<

---
Meeting: Tuesday, February 10, 2004

Our speakers will be Bob Mullauer and Jerry Bayer. Bob Mullauer was a high school history teacher for over a decade. He currently teaches nighttime courses at Anne Arundel Community College as well as speaking to a variety of groups on topics such as the American Civil War in the Western Theater, World War II in the Pacific, and the Napoleonic Wars. He has led United States Army officers on staff rides over the Chickamauga and Chattanooga battlefields. Besides Civil War battlefields, his travels include tours of World War II battlefields in the Pacific as well as Normandy, the Bulge, Verdun, and various Napoleonic sites in Europe.

Jerry Bayer is a former Marylander now living in retirement with his wife, Marianne, in Harper's Ferry, VA. He is a member of various historical groups, as well as a Life Member of both the SCV and SAR. A 1971 graduate of the University of Baltimore, Jerry has spent a lifetime studying American Military History and World War II. Bith He and Marianne are re-enactors and appear in the movie "Gods and Generals".

Antietam is the bloodiest day in American history. Included among the fallen from there and South Mountain were two Corps commanders, two Division commanders and four Brigadiers. Bob and Jerry will discuss the role of these Generals, the story of their deaths and the consequences of their loss.

(L-R Above)
Samuel Garland, Jesse Reno, Israel Richardson, Joseph Mansfield, George B. Anderson, Lawrence O'Brian Branch, William E. Starke, Isaac Rodman
---
Meeting: Tuesday, January 13, 2004

Our speaker will be Wayne Schaumberg. Wayne has been giving illustrated lectures on Baltimore History for over 20 years, covering a variety of topics from architecture to the Civil War. For the last eighteen years, he has led tours through Baltimore's landmark Greenmount Cemetery.

Born and raised in the Waverly section of Baltimore, Wayne Schaumberg graduated from Baltimore City College in 1964. He attended Towson University, majoring in both history and geography. Wayne also holds a Masters Degree in history from Morgan State University and a Masters of Liberal Arts Degree from Johns Hopkins University.

He has taught social studies in the Baltimore City School system for 36 years and is currently assigned to the Upton School (#303). In addition, Wayne teaches part-time for Baltimore County Community Education, Roland Park Country School, Harford Community College, Auburn Society at Towson University and the Evergreen Society at Johns Hopkins University.

Wayne's illustrated lecture is entitled "A Riot, A Rifle, and a Devastating Fire". In this talk, we will revisit the Pratt St. Riot of April 19, 1861. What happened that day and what is the connection between the Massachusetts 6th Infantry and the Great Baltimore Fire of 1904? It is a unique story. In addition, we will look at the story of Confederate John Mifflin Hood and his connection to the events of 1904.
---
Previous Meetings - See what you missed by not being a member!
---