Aug. 5, 2002-(CWI)-A human skeleton described as intact has been discovered inside the turret of the USS Monitor as US navy divers prepare to lift the huge object to the surface. The upper torso and skull were removed from the relic, packed in ice, and have been sent to the US military's Central Identification Laboratory in Hawaii.

The lower portions of the remains could not be removed, as they lie underneath one of the two Dahlgren cannons that constituted the Monitor's armament. It will not be possible to remove them until the turret is brought to the surface and taken to the Mariners' Museum in Newport News.

Project managers consider this conclusive evidence that the remains are from one of the 16 sailors who perished when the ship sank in a storm while under tow off Cape Hatteras, North Carolina.

The recovery team announced that two bones found in the turret earlier in the week are probably from a human arm. They also have been sent to Hawaii for identification.

Researcher say that since good records exist of the identities of the Monitor's crew, forensic and DNA testing should allow them to be identified.

There would be "a lot of detective work to do," but the chances are the remains can be identified, according to John Broadwater, the NOAA manager of the Monitor operation.

"We'll make every attempt to identify the person by name," Broadwater said. After the mystery is solved, the

Navy will bury the remains in a military cemetery, with full honors.

The steel claw that divers are calling "the spider" has been lowered to the ocean floor where the Monitor's rapidly deteriorating hull rests in 240 feet of water, the Virginian-Pilot reported. A 500 ton crane on a specialized recovery ship will be used to hoist the turret.

Project managers had hoped to raise the turret as early as Friday, but both waves on top of the water and swirling currents on the bottom were ruled too severe.

"Right now, the weather is not what we would like to see, 3- to 4-foot seas and 15-knot currents," Cmdr. Bobbie Scholley, head of the Navy dive operations, said Saturday.

At last report Sunday night the same conditions were still prevailing, and the projected lift date ranged from later Sunday night through Tuesday.

About 150 Navy divers, along with archaeologists from the National Oceanic and Atmospheric

Administration and the Mariners' Museum, have been working 16 miles

off Cape Hatteras to bring the turret to the surface.

Courtesy of:
Civil War Interactive: The Daily Newspaper of the Civil War
www.civilwarinteractive.com

3-D Theater, Civil War Photo Archive Planned for Gettysburg

July 30, 2002--Too few Civil War photographs are getting too much exposure, and too many are being overlooked and ignored because too few people know they exist.

That's the way Bob Zeller looks at it anyway. Yes, the same Bob Zeller who taught many to look at Civil War photographs in a whole new way with his two Civil War in Depth books of reassembled stereoscopic pictures which included special viewing glasses to produce the three-dimensional effect.

Zeller is now working to develop a combined library and archives of Civil War photography, a 3-D theater and a studio. His partners in the venture include Gettysburg photographer Rob Gibson, historian and Gettysburg battlefield guide Garry Adelman, and Charles Morrongiello of Tampa, Fla., who will oversee the fund raising.

Not surprisingly, they are looking to locate the National Center for Civil War Photography in Gettysburg. It's still years away, all partners admit, but the corporation secured nonprofit status last month.

"Gettysburg's where dad and mom bring the family if they go to one Civil War battlefield their entire lifetime," Zeller said. "There's plenty of things in Gettysburg, but this would be an attraction that would be totally authentic, and at the same time educational and entertaining."

Gibson and Zeller started discussing the idea in 1999, they told the York Dispatch, after they met during a demonstration at the Smithsonian Institute. They knew that writers and filmmakers used the same Civil War photos repeatedly, while they were fielding calls from people looking for pictures of specific regiments or family members.

Most books and films use photos as a "highlight, rather than using them as historical documents," Adelman said. "I think it requires certain expertise, and Civil War photographs are absolutely under-used for what they're worth."

The center they envision would include a database of all the major collections -- along with the location of photographs owned by private collectors. They want to offer people the chance to see original Civil War photographs, including many they have either never seen at all, or not the way the photographer intended.

"I'm sure there's all kinds of holes that can be filled and gaps in somebody else's collection," said Gibson, 44, of Gettysburg. "This way, we're just a clearinghouse, just a middle man."

About 70 percent of the photos taken during the Civil War were shot with a twin-lens camera, Zeller said. Like a person seeing a scene with two eyeballs set slightly apart, the two pictures have very slightly different views. When seen through polarized glasses, the images have a third dimension and stunning detail.

"Basically, the home entertainment during the Civil War was photography, and the stereo views were the videos," Zeller said. Besides publishing the two books, Zeller has taken the stereo views to events in his home state of North Carolina ranging from Round Table meetings to barbecues, where people again find them entertaining.

Zeller plans to project his slide shows in a special 3-D theater in the center.

"I figured at some point in time I've got to stop being the traveling doctor, making house calls, and have people come to me -- in Gettysburg hopefully," said Zeller. "We're just taking it step by step."

Zeller and Gibson have started looking at buildings in town that would make good locations. To start a center would cost about $250,000, they estimated, and a building would cost about $500,000, Zeller said. But they want the center be in Gettysburg.

"The idea [for the national center] was born in 1999 and, since then, it's grown from just an idea to a Web site and seminars and a nonprofit organization," said Garry Adelman, one of the partners who also is a battlefield guide and professional historian. "And we're not fooling ourselves, we know it might be a while."

Courtesy of:
Civil War Interactive: The Daily Newspaper of the Civil War
www.civilwarinteractive.com

Amazing Old Photo Collection Being Cataloged at Ohio Museum

July 3, 2002--An amateur photographer from Dayton, Ohio, who was just barely too young to take part in the Civil War, is making his mark on history with the resurrection of thousands of his photographs of battlefields in their turn of the century condition.

Albert Kern started taking the pictures in 1890, which was also the start of the "monumentation period" when parks were created and veterans and states began placing memorials of their actions on the fields.

"It has given us a whole new vista into what the battlefields looked like, usually within 30 years of when the battles took place," said Robert E. Lee Krick, a historian at the Richmond National Battlefield Park in Richmond, Va..

By the time he had finished in 1910, Kern had a personal collection of nearly 15,000 glass plate negatives. Kern, who died in 1925, left instructions in his will for his son, Walter, to pick out what he wanted and throw the rest away.

The collection was almost forgotten when it was discovered in the basement of Walter Kern's former home in 1971 and given to the Montgomery County Historical Society.

There they languished in safety and obscurity for another quarter century. In 1996, Bill Brown, a historian at the Harper's Ferry Center in West Virginia, was shown some of the old negatives and told his colleagues at the National Park Service.
After Brown's discovery, word of the collection began to get around. Kern's photographs have been used by more than a dozen National Park Service sites to enhance their understanding of the original Civil War locations as they looked before tree growth, ground cover and suburban sprawl caused changes.

The plates still belong to the historical society, which is continuing to organize and catalog the collection in a computer database and hopes to be finished by the end of summer.

Mary Oliver, collection curator, said the computerized catalog will make the Kern photographs even more useful to historians, the Associated Press reported.

"It will be the first time ever you'll be able to go through it and see exactly what's in the collection," she said.

Some 13,000 of the 15,000 photos Kern made were devoted to sites of battles, fortresses and burials of the Revolutionary War, the War of 1812 and the Civil War.
Dozens of Kern's photographs also are being used to develop a new master plan for Stones River, Tenn., where more than 80 percent of the battlefield there has yet to be claimed by the National Park Service.

14th New Jersey Monument on the Monocacy Battlefield

Explosive growth in surrounding Murfreesboro has already pushed commercial and residential development up to the existing park boundaries in places, and more is threatened on an almost daily basis.

Krick said the collection has been a valuable tool for restoration and planning efforts all over the country at battlefield sites such as Malvern Hill in Richmond, Va., and at Manassas, Va.

Courtesy of:
Civil War Interactive: The Daily Newspaper of the Civil War
www.civilwarinteractive.com

Petition Drive Started to Save Monocacy Battlefield From Highway Widening

July 31, 2002--A petition drive is being started in hopes of persuading the Maryland State Highway Department not to widen Interstate 270. While highway widening is usually very popular in heavily congested areas, I-270 already runs smack through the middle of Monocacy National Battlefield.


William Brinkley, of Grasonville, MD, is leading the effort, with assistance in publicity from lifelong preservationist Jerry Russell. They are asking Civil War folks to print out their petition, or create their own, and pass them around at reenactments, Round Table meetings, book signings, or any other events where




sympathetic ears may be found.

The suggested petition wording, Brinkley said, would be:

"The Maryland State Highway Administration is proposing to widen Interstate 270, which bisects historic Monocacy National Battlefield, site of the July 1864 battle which saved Washington D.C. from capture in the last Confederate invasion of the Union. Under the Highway Administration's proposal, the current four lane divided highway could grow to eight lanes, running directly through the Thomas Farm, site of the decisive, final phase of the battle.

"In addition the Highway Administration is proposing to take several acres of the equally historic Best Farm for a new interchange. Those of us who have added our names to this petition believe the Maryland State Highway Administration must recognize the historic value of Monocacy National Battlefield.

"We ask, as concerned citizens that state highway officials work with those whose job it is to ensure the preservation of the historic character of the battlefield. Any widening of Interstate 270 must be held to six lanes, no interchange should be allowed on the Best Farm, and mitigation measures devised to minimize damage to the historic

landscape, buildings and sites.

"We believe that Monocacy National Battlefield is sacred national space, a place where men fought and died to create the nation we have today. We urge active protection of this battlefield and cooperation with those who preserve it to accomplish the goals outlined above."

Signers should note their city and state of residence along with their names. Signed petitions should be sent to:

William Brinkley

110 Waterman's Court

Grasonville, MD 21638

Petitions must be received by the end of August, Brinkley noted. Those with questions, comments or contributions may call Brinkley at 410-827-8145.

"As we have told you many, many times, battlefield preservation is a national project," Russell said in a press release.

"Too often, state and local officials think that their actions which impact on a particular battlefield is strictly a local issue, a local concern. This is just not true. Battlefields, particularly National Park Service battlefields (as Monocacy is), belong to ALL Americans. They are cemeteries...and cemeteries belong to all of us. Their care and maintenance are the responsibility of all of us," Russell added.

Courtesy of:
Civil War Interactive: The Daily Newspaper of the Civil War
www.civilwarinteractive.com

Congressman Introduces "Battlefield Protection Act of 2002"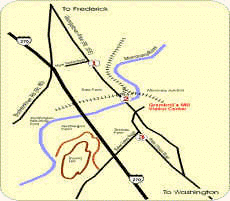 July 23, 2002-- Congressman Gary Miller (R-CA) and a bipartisan group of five colleagues have introduced the "American Battlefields Protection Program Act of 2002." This bill authorizes funding to preserve battlefields in the United States.
"Our battlefields are living classrooms," stated Congressman Miller. "They are a living, breathing, reminder of our nation's heritage and the fact that our freedom was paid for with human lives. Preserving our battlefields will allow future generations to visit and learn about the history of our nation."
The "American Battlefields Protection Program Act of 2002" creates the first authorization for funds to preserve battlefields in the United States. Funds would be available to nonprofit organizations, local governments, and states which seek to preserve battlefields and can provide a dollar for dollar match.

Although Congress provided funding for the Civil War Battlefield Preservation Program in Fiscal Years 1999 and 2002, it was done through an earmark. This bill would create a specific authorization and eliminate the need for earmarked funds.
"During the past few years, this innovative program has been used to save more than 7,000 acres of historic land nationwide," remarked Civil War Preservation Trust President James Lighthizer.

"The program provides matching funds that promote private and local investment in Civil War battlefields. Authorization of the program will further encourage community efforts to protect hallowed ground," Lighthizer added.
"Civil War battlefields provide a means for Americans to understand a tragic period in U.S. history," National Parks Subcommittee Chairman George Radanovich said. "Today, nearly 20 percent of these battlefields have been lost to development, which is unfortunate. Now is the time to join a public-private partnership to ensure that these sites are preserved."
Original cosponsors to the measure include Rep. George Radanovich (R-CA), Rep. Jim Duncan (R-TN), Rep. Alan Mollohan (D-WV), Rep. Spencer Bachus (R-AL), and Rep. Roger Wicker (R-MS). The bill has been referred to the House Resources Subcommittee on National Parks and Public Lands, which is chaired by Rep. Radanovich (R-CA).

Courtesy of:
Civil War Interactive: The Daily Newspaper of the Civil War
www.civilwarinteractive.com

New Vice President Named to Gettysburg Visitor Center Project

Aug. 2, 2002--The organization managing the private side of the "public-private" fundraising operation for the new Gettysburg Visitor Center has announced a change of personnel at the upper levels. The foundation has already come under Congressional questioning for the tripling of the original projected price tag, with at least two years to go until groundbreaking is expected to begin.

Elliot H. Gruber, the former chief operating officer and acting president of the Civil War Preservation Trust will join the Gettysburg National Battlefield Museum Foundation August 5 as vice president for external affairs. He succeeds Suzanne Helm, who was named director of advancement for The Potomac School in McLean, Va., in June.

Gruber comes to the Foundation from the Ocean Conservancy, where he served for the last two years as vice president of membership and development. His background includes fundraising responsibilities for a number of nonprofits, including the National Parks and Conservation Association.

Gruber's primary responsibility will be to raise the necessary funds to plan, design, finance, construct and operate a new museum and visitor center at Gettysburg National Military Park.

"Elliot brings more than two decades of nonprofit fundraising experience to the Foundation, with a dozen of those years leading programs that supported the preservation of our Civil War battlefields and our national parks," Foundation President Robert C. Wilburn said. "His experience will be invaluable as we work with the park service to ensure that visitors, and future generations of visitors, gain a deeper understanding of the significance of Gettysburg,"

"I am thrilled to return to the Civil War community and to work for the Foundation on this historic opportunity," Gruber said.


The Gettysburg National Battlefield Museum Foundation is working in partnership with the National Park Service to preserve the resources of the park, to tell the story of the Gettysburg Campaign, and to give visitors a deeper, more lasting appreciation for what happened there.

The Foundation has launched a $95 million campaign to improve visitor facilities, restore and preserve the park's extensive collection of artifacts and manuscripts, including the historic Cyclorama painting, and restore portions of the battlefield to their 1863 appearance. Planned program improvements will make greater use of the park's collection and provide better links between the historic town, the battlefield, and the new museum and visitor center.

During his tenure with the Ocean Conservancy, Gruber increased significantly capital campaign and planned giving revenues, while also identifying new sources of funding for the environmental organization.

A native of Danbury Connecticut, Gruber received his bachelor's degree in psychology, cum laude, from Brandeis University, and his master's degree in organizational psychology, with highest honors, from

Columbia University. Gruber, his wife Elinor and sons Sam and Louis reside in McLean, Virginia.

Courtesy of:
Civil War Interactive: The Daily Newspaper of the Civil War
www.civilwarinteractive.com

New Conference on "Women and the Civil War" Announces Formation of New Organization

Aug. 1, 2002--WCW, Inc. and the Conference on Women and the Civil War is announce the formation of the Society for Women and the Civil War, a membership organization dedicated to recognizing women's efforts, both those who lived through the war, and those who, today, research, reenact or otherwise honor them.

The group, whose website is at http://womenandthecivilwar.org/ welcomes both women and men as members.
Members of the Society will receive a quarterly electronic newsletter, our CWCW logo pin (while supplies last), and in 2003, a list of other members (inclusion in the list is voluntary).

We envision that the Society will serve its members by helping them get in touch with others pursuing similar research, preservation, memorialization , reenactment, or publishing goals.

The Society will also serve an advocacy and consulting role in the larger Civil War community, connecting other organizations (such as Round Tables, Parks, and Museums) with speakers and exhibitors from our Membership.
Membership dues are $25 per year. Those who join now will automatically be renewed, at no additional cost, for 2003. Our Membership Director is Sara Bartlett and our Newsletter Editor is Meg Galante-DeAngelis.
"I hope all of you are as excited about the Society as we are," society president DeAnne Blanton said in a press release.

"If you have any questions about the organization or would like to join, please contact me or Sara Bartlett at womencivilwar@aol.com ," Blanton added

Controversial Candidate For SCV Leadership Post Defeated By Seventeen Votes

Aug. 2, 2002-(CWI)-Kirk Lyons, a North Carolina attorney whose firm has defended leaders of the Ku Klux Klan and filed numerous suits protesting removals of the Confederate flag, was defeated by an extremely narrow margin for a top leadership position in the Sons of Confederate Veterans.

Lyons lost a runoff vote by only 17 votes out of 633 cast to Charles Hawks for the position of "commander of the Army of Northern Virginia" one of the SCV's three national divisions.

The election, scheduled to take two hours, lasted for four and a half. The group's annual meeting took place at the historic Peabody Hotel in Memphis.

Lyons emerged from a sweltering conference room looking startled by his defeat, the Atlanta Journal-Constituion reported.

After shaking Hawks' hand and promising his support, he also suggested that his crusade to shake up the 31,000-member organization wasn't over yet.

"No one likes to lose," Lyons said. "There'll be another race, another day, another time."

Lyons' candidacy for SCV leadership had provoked extensive controversy both inside and outside the group. Many feared that even if his supporters' claims that his radicalism was overblown were true, public perception would result in a public relations nightmare.

Hawks, 59, a retired tax administrator from Raleigh, N.C., said before the vote that Lyons' election would "cast a pall so dark over this organization that the light in which we would hope to have the public see us will be shadowed forever."

Many SCV members say they never heard Lyons speak or perform a racist act. Instead, they applaud his legal strategy of filing lawsuits in defense of "Southern heritage," such as one on behalf of two Ohio high school students suspended for wearing T-shirts that bore Confederate flags.

A number of SCV members had talked of leaving the group if Lyons won. Yet Lyons said the closeness of the election underscored the frustration that runs through much of the membership.

"Our heritage is in such dire straits that people supported my candidacy, not because of my past associations, but in spite of them," he said.

The SCV has often struggled to separate itself from racist groups it sees as hijacking Confederate symbols, such as the battle flag. At the same time, many of the SCV's members are frustrated by what they see as an erosion of those symbols in public places by state governments.

Lyons, 46, has described his law firm as being devoted to ending the elimination of Southern heritage. His clients over the past 15 years have included Louis Beam, former Grand Dragon of the Texas Ku Klux Klan, and members of violent right-wing groups such as the Posse Comitatus, the White Patriot Party and the White Aryan Resistance.

It was through that work that he met his wife, Brenna Tate, daughter of Aryan Nations leader Charles Tate. The wedding was performed by the Aryan Nations' founder and KKK leader Beam served as Lyons' best man.

Lyons also protested the 1993 opening of the Holocaust Museum in Washington, D.C., while a German magazine published an interview in which he praised the historic mission of the Klan and made admiring observations about Adolph Hitler.

Lyons waves off criticisms of his past as "guilt by association" or statements taken out of context.

Courtesy of:
Civil War Interactive: The Daily Newspaper of the Civil War
www.civilwarinteractive.com